Persistently weak productivity gains in coming years could lead to a further slowdown in potential global growth amid rising demographic pressures and despite rapid technological advances. Read on to discover the forecasts our robot, Athena, has found on future productivity. See where your own opportunities and risks lie in increasing your organization's efficiency. To see a Plectica mindmap of the information below, you may click here.
What is changing?
Future years
Growth
Business
Rate
System
Business value
Economy
Productivity
Learn more
Can you help us?
We are exploring a partnership with Plectica, a provider of visual mapping software to help people and organizations like yourself, to visualize foresight concepts, define relationships, and organize relevant futures content to achieve a deeper understanding of simple or complex systems. Please click the image below, or here to see the visual map below and contact us with your thoughts and ideas for improvement. Thank you!
​
Athena: Our robot, has determined which forecasts are included in this Trend Alert. She found 3,374 forecasts in seconds on the 7th February 2018 to allow us to publish this summary in less than thirty minutes. She can turn these into PowerPoint slides and Audio files in minutes too as you wish.
Athena does show duplicates to aid your understanding of themes as well as contradictory forecasts. She may also show near-duplicates. You can speed read past the duplicates and near-duplicates if you wish, though the latter may show additional information. You can use the contradictory, and likely uncertain forecasts she finds to imagine different scenarios. The future is unpredictable, but we can examine the possibilities and choose our preferable future from the choices she presents.
Keep up to date: You can stay bang up to date on this topic or choose from our many automatic reports to determine what's next in seconds.
Global goals | Social changes | Sector prospects | Risks & opportunities | Year-by year | G20 watch | Key Organizations
You can also ask us to set-up private topics for you (clients only) to achieve the same thing as this Trend Alert for your associates or set up Email subscriptions (Registration required) on your favorite subjects.
Please note: 
The graphs below are a selection from our extensive collection of visual analysis tools that you can manipulate on the Shaping Tomorrow service to suit your own purposes.
Sentiment analysis
Sentiment is generally positive towards productivity improvement but this could well change as technology replaces many human jobs in the future. One to watch!

Metrics
Persistently weak productivity gains in coming years could lead to a further slowdown in potential global growth amid rising demographic pressures and despite rapid technological advance.  The tipping point for significant global productivity gains is therefore not likely to happen for another generation.
Topic map 
Productivity gains will very much come from the introduction of new technologies such as AI, Big data, Industry 4.0, robotics, the IoT and replacement of old systems with new e.g. oil and coal to renewable energies and automated farming.
We recommend you further explore the topics forecasts below, particularly emerging 'Organization' changes at shapingtomorrow.com to gain further foresight on how your organization will be impacted in the future by digitisation.
Cloud
Emerging technologies are the key driving forces that are positively impacting on productivity. Once again, no sector will be spared the drive for simplicity, waste reduction, efficiency and effectiveness in the constant search for competitive advantage.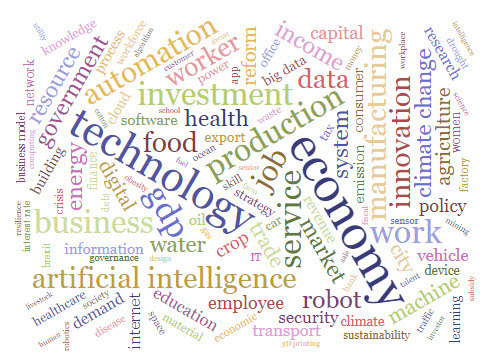 Again, you can explore those of interest by clicking this Cloud at shapingtomorrow.com. Just search "productivity". Then click Visualize and select the 'Cloud button.
Heatmap
Most productivity improvement will mainly come from the Northern Hemisphere in future years with South America and Africa continuing to lag behind.
You can follow these countries and the changes they are making to their organizational structures, instantly at Shaping Tomorrow, and then take their best ideas to implement in your organization.
Year-on-year
The drive for productivity improvement is clearly reflected in the sector chart below which accelerated in 2017. We expect the pace of change to continue accelerating in all sectors.
Radar chart
This week's radar chart shows how tackling climate change, resource issues, security and aging populations are likely to drive productivity improvements. Smart Cities and Construction too will bring further productivity improvement to infrastructure, transport and health sectors.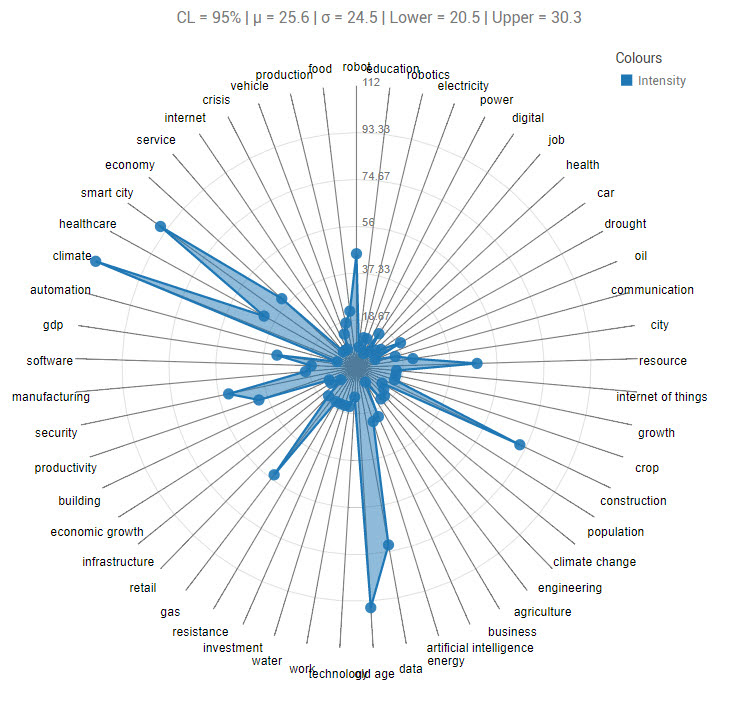 Graphit 
The key topic areas below highlight the coming importance of technology change to industry and governments alike. We recommend you explore the topics in more detail at Shaping Tomorrow to mitigate threats to your organization and to seize upcoming opportunities.
Emerging topics