Worldwide spending on items such as virtual reality headsets and games is forecast to double every year until 2021. Athena's extracted forecasts below suggest that many workers and consumers alike will be demanding virtual tools within the next 8 years.
What is changing?
Implications
Questions
When will an intelligent, virtual business advisor begin to whisper into the CEO's ear with recommendations around potential acquisitions, resource reallocations, pricing adjustments, and structural reorganizations? (Shaping Tomorrow is working towards this one with our embryonic and new Ideas generator)
Can managers convince workers to don awkward headsets and embrace the possibilities of augmented and virtual reality?
What will the tipping point be for mass adoption of virtual and augmented reality?
Trend
Leading forecasts suggest that by 2020 we will see a major upswing in the purchase of virtual reality devices.

Sentiment analysis
Sentiment about virtual reality technologies have been generally positive over the past six months apart from articles appearing in July regarding the potential effects on privacy, licensing, property access, and permits.


Metrics
Athena thinks though, that the tipping point for public acceptance will be around 2025. In the meantime, multiple players are developing their generalist and specialist offers for this very promising future market.
Most affected sectors: IT, Healthcare, Education, Manufacturing, Media & Entertainment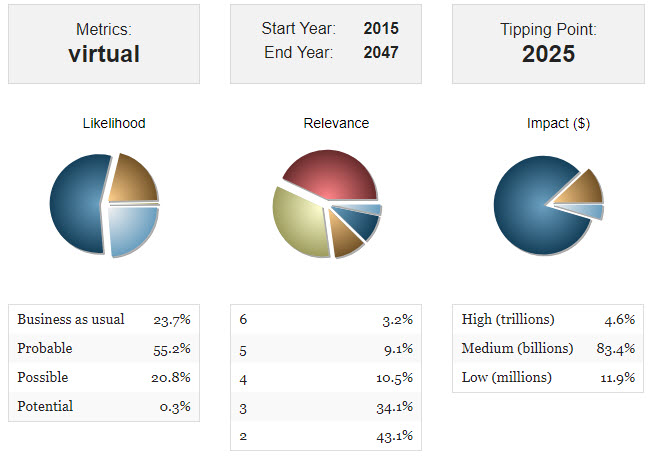 Topic map 
We recommend you further explore the topic forecasts below at Shaping Tomorrow to gain further foresight on how virtual reality may impact your organization in the future.

Heat map
Virtual reality is likely to be adopted mostly in the northern hemisphere first by North America, Russia, China and India. But expect the rest of the world to catch up fast as global organizations seek to dominate the markets by bringing down prices and increasing capabilities.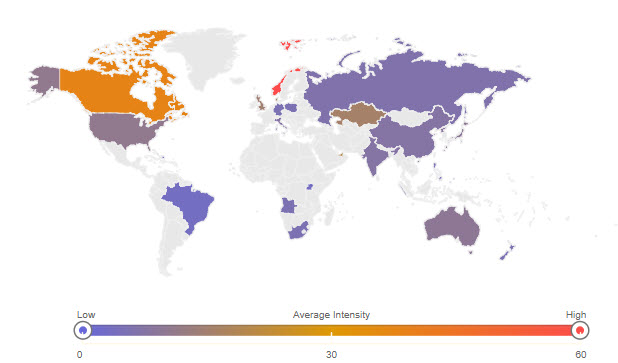 By 2025 Athena's analysis below shows the virtual reality market is likely to be in full swing and increasingly being used by workers and consumers alike. Investments and developments too will reflect this growing demand.