The threat of protectionism and economic fragmentation hangs over global trade and therefore impacts on your organization. Read on to discover what our robot, Athena, has discovered about the likely future of trade and respond accordingly.
What is changing?
Implications
Topic map
We recommend you further explore the topics forecasts below at Shaping Tomorrow to gain further foresight on how trade may be impacted in the future particularly in how regulations and  policy changeswill impact on  future economic growth.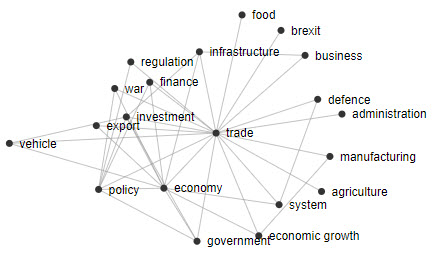 Heat map
Biggest trade opportunities and risks are in Canada, Australia, the UK and South-east Asia. Lowest trade opportunities and risks are in the US, the Baltics, South America, Russia, the Middle East, India and Africa.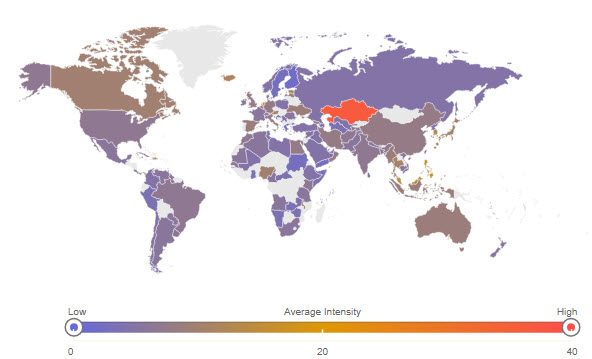 Athena: Our robot, has determined which forecasts should be included in this Trend Alert. She found 5,437 forecasts in seconds to allow us to publish this summary in less than thirty minutes. She can turn these into PowerPoint slides and Audio files in minutes too as you wish.
Athena does show duplicates to aid your understanding of themes as well as contradictory forecasts. She may also show near-duplicates. You can speed read past the duplicates and near-duplicates if you wish, though the latter may show additional information. You can use the contradictory, and likely uncertain forecasts she finds to imagine different scenarios. The future is unpredictable but we can examine the possibilities and choose our preferable future from the choices she presents.
Keep up to date: You can stay bang up to date on this topic or choose from our many automatic reports to determine what's next in seconds.
Global goals | Social changes | Sector prospects | Risks & opportunities | Year-by year | G20 watch | Key Organizations
You can also ask us to set-up private topics for you (clients only) to achieve the same thing as this Trend Alert for your associates or set up Email subscriptions(Registration required) on your favourite subjects.