In coming decades, jobs will disappear due to the development of AI. Our robot, Athena, finds that most forecasts do not make similar projections for the many jobs that will be created by new technologies. The forecasts below are indicative of disruptive changes coming to many livelihoods. You can watch where the best jobs will be and/or contact us for a full and customized research report.
Athena's forecast
Start year: 2016
Likely Tipping point: 2024
Likely End year: 2040
Likely Impact $: Trillions
Likelihood: 85%
Regions affected: The World
Most affected sectors: All
What is changing?
Automation
35 percent of jobs in Germany are considered at risk and only 21 percent of Japanese jobs are thought to be at risk.
Jobs in the U.S. are significantly more likely to be at risk of being replaced by computers.
The U.S. has a higher percentage of jobs under threat by automation because more workers in the U.S. are employed in positions that require routinized tasks.
As many as 61 percent of jobs in the U.S. could be automated.
60 million U.S. jobs face some automation and the change could be as drastic as the shift from an agriculture-based economy into the 20th century.
76 million U.S. jobs will disappear in the next two decades due to AI & Robotics – almost 10 times the number of jobs created during the Obama years.
38 percent of U.S. jobs (nearly four in 10) will be replaced by robots and artificial intelligence by the early 2030s.
Artificial intelligence will take 6 percent of all U.S. jobs by 2021.
Up to around 30% of existing UK jobs are susceptible to automation from robotics and Artificial Intelligence by the early 2030s.
Approximately 32 percent of existing UK jobs in financial services and insurance could be automated by robotics and artificial intelligence over the next 15 years.
Over 1 Million B2B sales jobs will go away by 2020.
AI will displace people in driving-focused positions such as truck drivers, delivery drivers and taxi drivers.
Skills

The year 2017 will see a rise in jobs for skilled versatile workers who are good at learning what new technology offers.
In many cases the nature of jobs will change rather than disappear.
Work and job redesign around RPA will be a major trend in the coming years.
In the next decade, 2 million out of the 3.5 million manufacturing jobs will go unfilled due to talent shortages.
As many as 46% of those with GCSE or lower education could be at risk in the UK from automation, but only about 12% of those with undergraduate degrees or higher face such a threat.
The UK is near record-low levels of unemployment and so outsourcing more repetitive tasks to robots could free up people to do more valuable work.
There will be five million more US jobs requiring employees with university degrees by 2020 than people to fill them.
UK forecasts show that there will be 9 million low-skilled people chasing just 4 million jobs in the UK in 2022.
Regulations

Estimated job losses tied to the 2025 US fuel-economy standard could mean 137,900 fewer automotive manufacturing jobs and 1.1 million jobs total.
U.S. regulators will weigh Alibaba's commitment to increasing jobs in the U.S.
More than 3,000 EPA workers could lose their jobs as programmes such as Mr Obama's Clean Power Plan, aimed at tightening regulations on emissions from power plants, would be eliminate.
Trade

The wholesale and retail trade sectors are likely to feel the biggest impact of automation, which estimated that almost 2.3 million UK jobs in those sectors could be at high risk of automation.
Implications
Studies are underestimating the impact of technology — some 80 to 90 percent of jobs will be eliminated in the next 10 to 15 years.
The types of jobs available

20 years from now

are going to be unpredictable to some degree but patterns can be discerned and new future roles glimpsed.
Health care occupations is expected to add more jobs over the next 10 years than any other group of occupations.
It is projected that the amount of aviation industry related jobs will rise from 58 million to 105 million, an increase of almost 85%. Estimates show that approximately 36,000 airplanes will be needed to fulfil flight travel demands-an investment of $5 trillion dollars.
More than 240,000 new jobs will be created globally over the next five years by Starbucks.
In the world of cybersecurity, AI is going to be a job multiplier and it will create opportunities for "new collar" positions in cybersecurity.
Jobs will be created in all segments of the value chain (construction, installation, feedstock supply, manufacturing and operation and maintenance) and will form a global workforce with an array of skills.
The number of renewable energy jobs in India is expected to grow significantly as the country's already significant ambitions are further scaled up.
In the United States, a strengthening of policies to encourage emissions reductions could yield two million renewable energy jobs by 2050.
There could be a shortage of around 800,000 ICT specialists in the EU by 2020.
Market research firm Cybersecurity Ventures projects a total of six million jobs in global information security by 2019.
Unmanned aircraft could lead to $82 billion in economic growth by 2025 and support up to 100,000 jobs in the US.
Questions
What new jobs might arise in that firm given that the 'doers of work' can be liberated from those manual jobs and become 'creators and curators of knowledge'?
Can robots assist us to create jobs?
In 50 years, which of today's jobs will not be doable by machines?
Sentiment Analysis

First signs of net's negative sentiment!
Jobless Futures Topic Map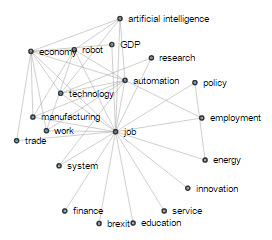 Learn more
Find more sources and forecastson Shaping Tomorrow, some of which were used in this Trend Alert, or ask us for our ready-made and free, in-depth PowerPoint report or more detailed GIST briefing on this or any other topic of interest to you.
Also, click here to find out how Shaping Tomorrow can help your organization rapidly assess and respond to these and other key issues affecting your business.
Ask us to show you how you can produce similar, private Alerts for your stakeholders on topics of interest to you.